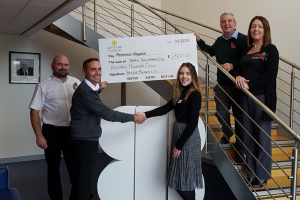 Barrie Beard Ltd is an electrical contracting company based in Bromsgrove and have supported the Primrose for many years as the founder, the late Barrie Beard has always shown his support which has continued in his honour.
In September 2018, on a beautiful sunny day six members of the Barrie Beard team took part in the parachute for Primrose challenge and raised an amazing £3,500
Although they were all nervous and apprehensive, they all had the best experience of their lives by free-falling 13,000 feet flying through blue skies.
Many of the employees at Barrie Beard Ltd have had a link in one way or another with the Primrose and by taking on this challenge and other fundraising activities it is a way of giving something back and boosts the camaraderie within the teams.