KEVIN Thurman, from Headless Cross, Redditch, hopes to complete a 100k indoor cycle ride in under three hours and will live stream the event to Facebook on Sunday, June 14.
The 65-year-old had originally hoped to complete the Birmingham Velo for Primrose Hospice however after it was cancelled had then planned a 97km Worcestershire pubs bike ride until the coronavirus lockdown struck.
Though he plans to return to the Worcestershire pubs bike ride at the end of the year, Mr Thurman will now take on the indoor cycle challenge to thank the hospice for supporting his wife Sue.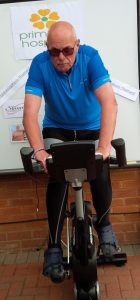 Since January 2019, Sue has had clinical appointments at the hospice as well as attended GALS Group at the Coppice Centre and the couple have used its family support services too.
GALS Group
Mr Thurman said the challenge was his way of saying thank you to Primrose Hospice.
"She found [joining GALS Group] very helpful, the thought of being with people in the same situation as herself was a big comfort to her.
"When we were told about seeing someone at the hospice we must admit it was quite frightening not really knowing what there was to offer.
"We just thought it was a scary place, only thinking it was a place to die peacefully, but now we know different.
"It's a place to get advice, therapy and socialise. Every aspect she has been involved in at the Primrose has given her peace of mind."
The challenge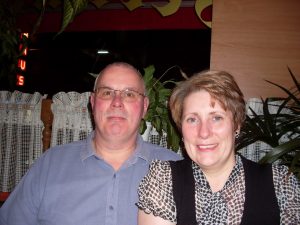 The six stage ride will take place on Mr Thurman's Proform Le Tour De France studio bike at home.
There will be spinning stages as well as pre-programmed hill climbs and a 3K cool down.
Kevin lost an incredible six stone since joining Slimming World in 2018 and the Kingsley and South Redditch Group will be supporting his challenge.
Thank you
Sally Insley said: "We are so grateful to Kevin for taking on this 100k indoor cycle ride for Primrose and wish him all the best of luck.
"It was touching to hear how the hospice's care and support has helped Sue and Kevin and given the couple peace of mind.
"We can only provide this kind of service to families who desperately need it thanks to people like Kevin who do incredible things to fundraise for Primrose.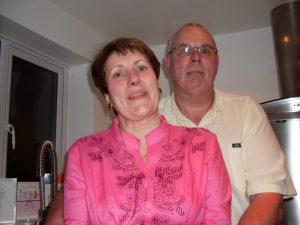 "Now more than ever we need this support as we are experiencing a rise in demand for services at the same time as fundraising events having to be cancelled because of the coronavirus."
Primrose Hospice's services are free to patients and their families but the hospice must raise just under £1.5million independently to be able provide its care and support.
You can sponsor Kevin here.