THIS is the moment covid-survivor Leighton could only dream of last year – stood atop Snowdon with his eldest daughter Chloe.
Leighton Webster, from Redditch, managed to make it to the summit for Primrose Hospice accompanied by NHS staff who nursed him back to full health.
The 43-year-old took on the fundraising challenge as a thank you to the hospice who supported Chloe and wife Emma after his family were told to 'expect the worst'.
Despite the tough challenge, inspiring him to reach the summit was the thought that last year he only had a 10 per cent chance of survival.
Spurring him on
He said: "The whole experience was unbelievable from beginning to end. I looked back at pictures from where I was last year and it just spurred me on.
"I got to three hours and thought I can't do this then I thought back to when I was in hospital last year when I couldn't even walk and thought I can do this.
"We laughed and we sung on our way up to keep our spirits high while also remembering the times when things looked quite bleak, it was very emotional at times.
"When we reached the top it was amazing, however I think the biggest mountain to climb in life is life itself."
Giving back
Leighton, who is also father to Skye and Noah, decided to fundraise for Primrose Hospice after hearing how the Family Support team had supported his family while he was in a coma.
"I'm really pleased to do something to give back to all the people who have helped me get back to where I am now.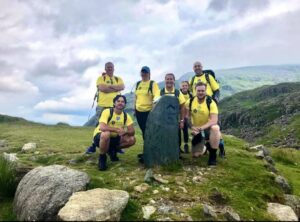 "Me and Chloe stuck together all the way, she has already asked can we do something like this again."
The story touched the hearts of other climbers who also donated to the team after hearing Leighton's story.
How Primrose supports families
Lucy Perkins, Primrose Hospice's community fundraiser, said: "We are so pleased that Leighton was able to complete his challenge of reaching Snowdon's summit.
"The picture of him and Chloe together at the top will no doubt be treasured by the family forever.
"Leighton's story highlights how Primrose Hospice is there for families at their most difficult times when they need support the most.
"It costs £1.75m to run Primrose Hospice annually and the majority of this has to be raised independently by the hospice.
"We are so grateful to hospice heroes like Leighton for taking on challenges to help fund Primrose's care and support."
To sponsor Leighton, visit https://justgiving.com/fundraising/leighton-bluewarrior.
From parachuting to adventurous treks, you can take on a challenge for Primrose Hospice. Email the team for more information enquiries@primrosehospice.org.