Around 60 million people across the globe die each year. This leaves behind bereaved families and friends who may find it hard to come to terms with their loved ones death.
Many people are uncomfortable with discussing bereavement and their grief, Primrose Hospice's Family Support Team are here for you.
What is bereavement?
Bereavement is the time following the loss of a loved one; this time is different for every individual. The word 'bereavement' has its roots in the ancient Germanic meaning "to seize by violence" or "to rob".
What is the difference between bereavement and grief?
The two words 'bereavement' and 'grief' are often used alongside each other, but their meanings do differ. Bereavement describes the period of mourning following the loss of a loved one, whilst grief relates to the individual's experience of their loss in relation to their emotional and physical reaction to the death.
How can bereavement support be beneficial?
Many people find it hard to deal with the feelings of grief; sometimes it's hard to know how to handle these feelings. That is why it can be beneficial to have a conversation with our Family Support to see how they can help.
Often people just need time to talk through their feelings with someone outside of their immediate family or close circle.
Our Family Support Services offer several different bereavement support services:
121 Counselling – We offer weekly (initially for 6 weeks but can be increased to 12 weeks) support with one of our trained volunteer counsellors. We are BACP (British Association of Counselling and Psychotherapy) accredited since 2011.
Family Support – Our Family Support service is available where counselling is not appropriate (for example, you feel you can't commit to weekly sessions or counselling level of support is not required). We have a team of adult family support volunteers who support people in their own homes (usually by phone).
Bereavement Group Support – Our Group Support is available for both adults and children experiencing bereavement. We offer a wide variety of groups for individuals depending on their stage of grief. The main purpose of a group is to provide a safe environment for discussion and mutual support with others who have similar experiences.
Why is bereavement support important?
When an individual is bereaved, whether that be an adult or child, it can be a confusing time, the person may feel new emotions that they may not know how to process. Bereavement support can be a good way to helping the person to understand those feelings and how to deal with them.
Grieving is such an individual process, it is different for everyone. There is no right way to do it. Time alone does not heal – it is only through grieving that we begin to work through the pain.
Hear from our clients:
Ray Moore has been attending some of our bereavement support groups after his wife Margaret died. He is happy for us to share some of his words about how attending these groups and making new friends has affected his life.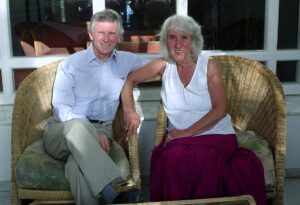 "I was hesitant at first, I knew I needed something, but I thought a hospice was a place for sick people and that the group would be full of chatty women!
However, going along to that meeting was the best thing I ever did. Of course, there were a few chatty ladies, but I was pleased to learn I wasn't the only man there. Primrose Hospice, and the group, helped me open up about Margaret and somehow I could talk about her again.
It's such a comfort to know I can share things with people who know what I'm going through as often they might be feeling the same! I never feel like I am a burden to them, or they to me, and it gives me the strength I need to help me support those around me who need me now more than ever."
Do you know someone that would benefit from pre or post bereavement support? Primrose Hospice & Family Support Centre can support you and your loved ones.
Contact us to chat about the support we can provide:
T: 01527 889799
E: info@primrosehospice.org
Find out more about our Family Support Services here:
Children & Young People Family Support
Hear Heather, our Head of Family Support Services, and Jenni, our Children & Young People's Practitioner Team Lead, talking about why bereavement support is important in the video below: