Brave people looking to take on the ultimate challenge can sign up to take part in Parachute for Primrose.
Places are available for people to take on what has been described as a 'totally exhilarating and absolutely incredible' experience.
Teams of thrill-seekers will make their way to the airfield in Brackley, Northamptonshire where they will leap out of a plane at over 10,000ft then fall at speeds up to 120mph before the parachute opens.
Vicki Stiles took part in Parachute for Primrose with colleagues from Armstrong Bell, based in Stoke Prior, Bromsgrove.
She said: "I never, ever imagined myself jumping from a plane at 13,000ft – I've always been petrified of heights and terrified of fairground rides etc.
"I was at Primrose the day the team were updating the Parachute for Primrose board.
Remarkable
"As I looked at the board, a thought flashed through my mind, Primrose Hospice and Family Support Centre has done so much for my family, my friends and for me.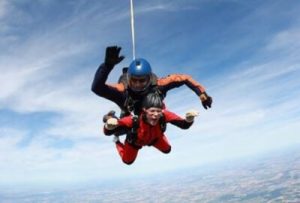 "The work this hospice does to support people with life-limiting illnesses and their families is remarkable.
"I felt an urge to raise a large amount of money for my local hospice – they seriously deserve it.
"I wanted to challenge myself physically and mentally, and with that, I added my name to the list.
"I also managed to talk some of my colleagues and friends into jumping with me, which was amazing and I'm so proud of them (and grateful for their support!).
"An experience like this really strengthens a team, it's an experience you'll share forever.
Exhilarating
"I found the jump totally exhilarating and absolutely incredible. The feeling afterwards is almost liberating. You see life from a very different perspective – everyone should do this at least once."
"If you are looking to challenge yourself and want to feel a great sense of achievement, this is for you.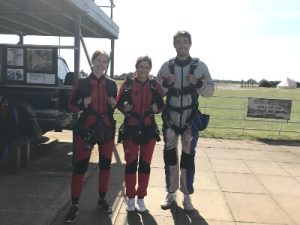 "This was the biggest challenge of my life and I did it in aid of an absolutely amazing and completely deserving charity. Thank you, Primrose for giving me that opportunity."
To take part, people need to raise £450 for Primrose Hospice and will supported by a member of the fundraising team to reach this total.
The money raised helps Primrose to provide care and support for people with life-limiting conditions, their families as well as bereaved children and adults in north east Worcestershire.
Parachute for Primrose is taking place on Saturday, June 27, Saturday, August 8 and Saturday, September 19.
Anyone who would like more information should contact Sarah Harris, community fundraiser, on 01527 871051 or by emailing sarah@primrosehospice.org.