Christmas is just around the corner and we've got the perfect way to step into the festive season by signing up for our much-loved Santa Fun Run! On Sunday 3rd December don your Santa suit and raise much needed funds for Primrose Hospice & Family Support Centre.
Last year Wendy set herself the challenge of completing the route in memory of her husband, Ron. Little did she know her friends and family got behind her and helped her raise £1,121.25! This could pay for over two weeks of Primrose Hospice at Home support, meaning family and carers of patients can access much needed respite care.
Sign up to our Santa Fun Run 2023 today to help us support more patients and families.

We spoke to Wendy about Santa Fun Run and her experience with Primrose Hospice. Watch her story or read her words below:
"My husband Ron died suddenly at the start the pandemic at home, which to say it was a shock is an understatement. I came to Primrose Hospice about 18 months after Ron had died. Sadly, due to the fact that my next door neighbour died, he was receiving care at Primrose and his wife, Debbie had counselling. While Debbie was having her counselling sessions, she was talking about me, because Debbie and Trevor had been really good to me. And in talking about me, it was suggested that maybe I could be referred to counselling and thankfully, that's what happened."
Our Santa Fun Run takes place in Arrow Valley Park just a five-minute walk from Wendy's house. So she'd seen everyone dressed as Santa running round the park before and thought it looked great! Wendy wanted 2022 to be the year she took part in the event, in memory of her husband, Ron. However she was going to be taking part on her own, so she rang our fundraising office and spoke to Rebecca from our fundraising team who suggested they take part together, along with Rebecca's daughter. So she signed up and the rest is history! She went onto raise £1,121.25 with help from her friends and family.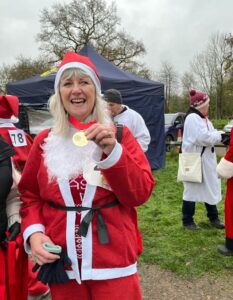 "It was such a lovely atmosphere and I got quite emotional at the end when I got my medal. I was just grateful to be able to raise some money to give something back for the counselling that I received and for the care that my neighbour Trevor received as well. I've recently lost another friend who's received care, so I know how important fundraising is for Primrose Hospice. You only get small percentage of government funding. So it's just so important to keep Primrose Hospice going for everybody in the area. I'm so proud to have raised the money and I want to say thank you to everybody who donated."
Wendy will be volunteering at our 2023 Santa fun run so keep an eye out for her along the route and be sure to give her a wave!

If you can't take part but would like to volunteer at this or any of our other events in 2023 contact our fundraising team here:
T: 01527 889 796
E: enquiries@primrosehospice.org