A YOUNG boy who received bereavement support from Primrose Hospice is backing its Big Summer Stroll taking place at Hanbury Hall.
Theo Giles, from Redditch, has urged people to get behind the event which takes place on Saturday, July 3 at the stunning grounds of the National Trust property, near Droitwich.
The nine-year-old has been supported by the hospice's Children and Young People's team following the death of his grandfather Mike Lewington, of Crabbs Cross, Redditch, in April.
Mike and Theo's family, which included mum and dad Sarah and Richard and older brother Elliot, 16, enjoyed dog walks through Hanbury Woods together.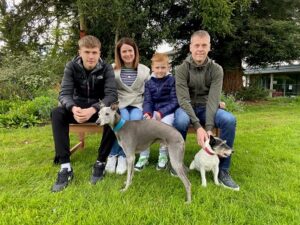 The family has also taken on Mike's nine-year-old whippet Joey who joins their dog 11-year-old Daisy.
Lockdown
Theo's parents said he became a bit more subdued following Mike's death and struggled with lockdown before returning to the classroom and not being able to share his feelings at school.
Having contacted Primrose, Theo began seeing the Children and Young People's team for group support and one to one sessions with Primrose Children and Family Worker Sharon Workman.
His parents credit the work he did with Sharon for "getting the old Theo back."
Theo said: "It's helped having a different person to talk to other than mum or dad.
"Sharon was easy to speak to and it's helped because I wanted to talk a lot about him.
"The pandemic definitely made things harder but during lockdown I could go out and see Sharon face-to-face.
"Sharon gave good tips about how to deal with it as well.
"I sometimes still use them but not as much anymore. I feel like I have definitely come a long way. I feel like my old self."
Dog walks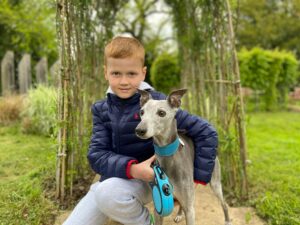 The family, along with dogs Joey and Daisy, will be joining the Big Summer Stroll and hope to see other families also sign up to take part.
They are urging other families to sign up and take part in the 3.5km around the stunning gardens.
Sally Insley, Fundraising Manager at Primrose Hospice, said: "It is clear how much granddad Mike meant to Theo and how the support from Primrose helped Theo grieve.
"Their story highlights how family walks are often some of the best times to make memories and bond with each other.
"Joining in with the Big Summer Stroll also means that you are helping to fund bereavement care for more children like Theo too."
Access to the Hanbury Hall grounds is available from 3.30pm with the walk starting at 4.30pm.
Tickets, costing adults £10, children £6 and families (two adults, four children) £22, and picnic packages are available from primrosehospice.org/events/summerstroll.