A PRIZED jar of homemade pickled onions fetched an incredible £160 during an at a social club's Christmas disco in aid of Primrose Hospice.
It took Alan 'Flash' Wardle four hours to peel and prepare the pickled onions, but his hard work did not go to waste.
The gallon jar was auctioned off at Stoke Prior Sports and Social Clubs with an incredible winning bid of £160.
Around 100 regulars at the social club in Westonhall Road attended the disco which raised around £600 in total for the hospice in St Godwalds Road, Bromsgrove.
Support
Mark Goddard, the club's manager, said: "We've lost a few customers over the years who were cared for by Primrose Hospice so we wanted to do something to support the hospice.
"Everyone enjoyed the disco and we had lots of people telling us we should advertise it more next year.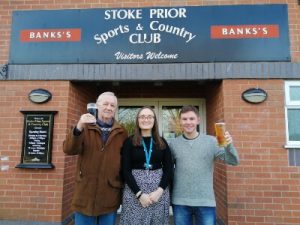 "The auction and raffle raised £600 so they did really well."
Michelle Ashmore and Sarah Lewis helped with the raffle and donated the buffet for the evening while Sean Toogood helped to organise the disco.
Valentine's Day
Next year, they plan to hold a Valentine's Day event for those who have lost loved ones.
Sarah Harris, community fundraiser for Primrose Hospice, said: "We are ever so grateful to everyone at Stoke Prior Sports and Social Clubs for raising £600 for Primrose Hospice.
"We are particularly impressed by Alan and his pickled onions – we only wish we could have tried one because they must taste incredible.
"It also sounds like they have some lovely fundraising ideas for the future too which we're really looking forward to.
"The money they have raised will help us to continue to provide free end of life care to people living in our community."
Anyone wishing to hold an event for Primrose Hospice can contact Sarah by calling 01527 871051 or emailing sarah@prirmosehospice.org.
If you want to take on a challenge for Primrose Hospice we are looking for people to take part in RideLondon and take on parachute jumps for the hospice.