"In time grieving can become giving. Giving to others is one route back into your joy and back into your light. This is  so important when you've been in a dark place for a long time."
At Primrose Hospice & Family Support Centre we provide care and support to 1,300 people every year in North East Worcestershire. This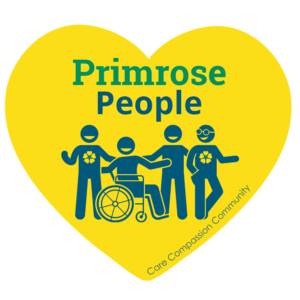 simply wouldn't be possible without our 'Primrose People'.
From every volunteer, patient, staff member and fundraiser, everyone plays a vital part in ensuring Primrose Hospice & Family Support Centre can continue to provide the free and vital support to our community in their time of need.
The next 'Primrose Person' we are going to be hearing from is Martin Ladbrooke, fundraiser, and supporter of Primrose Hospice. We asked him about his experience why Primrose Hospice is important to him. You can listen to or read his words below…
When Martin's partner Stephanie was diagnosed with lung cancer in April 2018, she was referred to The Primrose Unit at the Princess of Wales Hospital where both Martin and Stephanie were supported by Primrose Hospice's Family Support Team.
Despite only being given a few days to live Stephanie had an immediate response to her targeted therapy drug and was able to go home after a couple of weeks. From this point forward both Stephanie and Martin were supported by our team and in particular Ray, one of our Family Support volunteers.
"After Stephanie's death Ray sat with me often, made me many cups of tea, and let me talk about anything and everything. He asked open, thoughtful questions, and often drew on his own experience of losing his wife.
Through that process, particularly through the first 12 months you start to realise grief is not generic. The grief I had for my partner was different to the grief I had for my parents. It's not time bound and nor does it need to be. Grief doesn't play by any rules and it's not linear – you think you're almost through it and then you might find yourself back at the start again.
But the conversations with Ray helped me get to a place where I was reconciled to how grief was for me and my own particular grieving process. The time at Primrose has been hugely influential in getting me to get to where I am now. I still grieve, and I still have bad days, but I'm in a much better place than I would have been without their support.
If you've got some things in your head and in your heart that are unsaid about your loss – go and get yourself some Family Support."
After receiving support from Primrose Hospice & Family Support Centre Martin decided he wanted to do some fundraising to give back. He took on a martial arts challenge, completing 60 rounds of sparring to mark his 60th Birthday, spending 5 hours on the mat and raising an incredible £3,500!
"Giving back is a way back into your life and for me the obvious place to give back was to the hospice that supported both my partner through her diagnosis and death and who also supported me through my grieving process.
One of the reasons you might want to support the hospice is because you're paying it forward, you're trying to ensure that those people who come after you benefit from the same compassion and support that you yourself did."
Contact our team to find out more:
T: 01527 871051
E: info@primrosehospice.org
Published: 19.07.23