A SCHOOLWEAR shop will be selling pre-loved uniform to support hospice care in Bromsgrove.
Parents can buy or donate good quality, second-hand school clothing at S&H Schoolwear and Sports in Church Street to support Primrose Hospice.
Helen and Simon Greaves said their experience with hospice care following the death of Helen's father inspired them to launch the charity fundraiser.
Mrs Greaves explained that her father had been cared for by a hospice for 13 weeks before his death and called hospice care an 'absolute lifeline'.
Dad
"I lost my dear dad in 2015 so we know hospices are absolutely invaluable.
"Before dad died, we had absolutely no idea that hospices rely so heavily on fundraising to keep going.
"Preloved Uniform is something we've been thinking about doing for a while.
"It started off as a little idea we had last year, we've given it a lot of thought and looked at various ways of doing things.
"We're pretty chuffed with the final plan, so here goes."
Unwanted badged uniform
From Monday 13th January, staff will welcome any used and unwanted badged uniform previously purchased from S&H Schoolwear.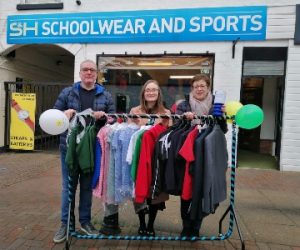 The donated uniform will go on the preloved uniform rail and everything will be available to buy at just £3 an item or £5 for blazers.
All proceeds from the sale of preloved uniform will go towards the hospice which provides free care and support to people with life-limiting conditions, their families as well as bereaved adults and children.
Mrs Greaves added: "We know how quickly children grow, there must be hundreds of unwanted items stashed away in the wardrobes of Bromsgrove.
"When your child no longer needs their school uniform, please pop it back to our shop.
"We always knew we wanted the proceeds of preloved uniform to go to a local charity and we felt that Primrose Hospice was the obvious charity of choice.
"Their work is amazing and we are very privileged to be in a position whereby we can support this incredible charity based in the heart of Bromsgrove."
Thank you
Sarah Harris, community fundraiser at Primrose Hospice, said it was a fantastic idea and thanked Helen and Simon for their efforts.
"We all know how quickly children go through school uniform and how often it needs replacing.
"The preloved uniform rail is a fantastic idea which not only supports your local hospice but also saves parents a few pennies as well.
"It will have an environmental impact too by ensuring that good quality clothing isn't going to landfill unnecessarily.
"A big thank you to the team at S&H Schoolwear as well as all the parents who will be using or donating to the preloved uniform rail."
Families are invited to take part in the hospice's Lantern Walk at Ragley Hall on Saturday, February 1 from 4.30pm.
Tickets and more information are available from the website or by calling 01527 871051.