SUPER sleuths can enjoy a Murder Mystery Dinner and intrigue by order of the Squeaky Blunders on Saturday, February 8.
Sarah Harrod, from Aston Fields, Bromsgrove, has organised the Murder Mystery Dinner at Grafton Manor to support her fundraising for the London Marathon.
Mrs Harrod chose to run the marathon in aid of the hospice after it provided palliative care for her grandfather.
The 45-year-old explained the connection between the event location and her beloved grandfather.
Connection
She said: "I'm really pleased Grafton Manor is the venue for the Murder Mystery Dinner because my granddad used to supply the meat to Mr and Mrs Morris from his butcher's shop, Edwards on the Worcester Road too many years ago to remember.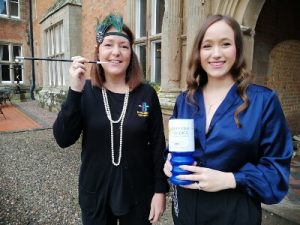 "The actors I have employed, Murder on the Side, originally came from this area too and fittingly their first ever performance was at Grafton Manor.
"They are adapting the script for Squeaky Blunders so that the final scene can be played out in the church."
1920s
The evening is set in Birmingham in the 1920s which has become a cesspit of crime, debauchery, gambling and not very nice folk.
Gangs rule the streets and Thomas Shellfish is the mastermind.
A sudden scream and a dodgy Midlands accent later and there's a body.
Who is responsible for the crime? That's for guests to decide – by order of the Squeaky Blunders.
Tickets are priced at £55 per person and include a 3 course pre-ordered meal and a glass of fizz on arrival.
Raffle
Guests will also be invited to take part in a raffle on the evening. Tickets are £5 per strip and prizes have already been donated from local companies including Grafton Manor, Carter Esquire, Ollie's Eatery, Casa Med, Bayleys of Bromsgrove and Severn Valley Railway.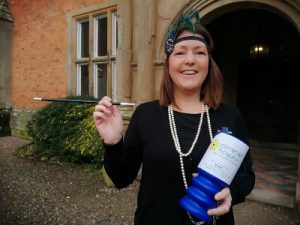 Raffle ticket proceeds are being match funded by Barclays Bank.
Sarah Harris, community fundraiser at Primrose Hospice, said: "This will be a great night for friends and family to get together, dress up and try to figure out whodunnit.
"The venue is beautiful, and it is lovely that it holds a very special connection for Sarah.
"We wish Sarah the very best as she trains for the London Marathon as well as putting on two events for Primrose to aid her fundraising.
"I'd encourage everyone to get behind her and show their support by enjoying a fantastic evening of entertainment on Saturday, February 8."
The deadline for tickets is Friday, January 31 and they can be booked by contacting Sarah Harrod on 07970 212 942.