A BEAUTIFUL new Memory Tree has been placed at Primrose Hospice for families to remember a loved one.
Ironmonger Steve Webb from SPW Ironworks created the tree which now sits in the hospice's peaceful courtyard thanks to a private donation from a supporter.
It is hoped that the tree will be filled with delicate leaves bearing the names of supporters' loved ones.
The hospice is inviting people to purchase a gold or silver leaf which will be inscribed with the name of their loved one which they wish to remember.
Remember a loved one
Emma Williams, Fundraising Manager at Primrose Hospice, said: "Primrose's Memory Tree is a very beautiful way to remember a loved one throughout the year.
"Our courtyard is the heart of the hospice but it is also a very quiet and tranquil space which is perfect if you would like a few moments of reflection.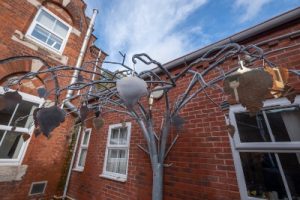 "The leaves are not only a lovely way to remember a special person but also contributes to the hospice's ongoing care and support of our patients and families.
"We hope that our Memory Tree will soon be filled with beautiful messages of remembrance and will become a special place where families come to find peace and remember their loved one."
Time to Remember
Hospice chaplain Keith Judson hopes to hold regular Time to Remember events at the hospice in connection with the Memory Tree.
Family members can spend time in the courtyard with the Memory Tree and look at the Book of Remembrance in the Octagon, the hospice's spiritual space, by appointment.
This year, the courtyard has undergone a makeover to transform it into a tranquil space with benches, a mural, flowers, water feature and a figurine of a hare.
The Memory Tree was the finishing touch and was launched at the hospice's Carols by Candlelight evening on Thursday, December 19.
Leaves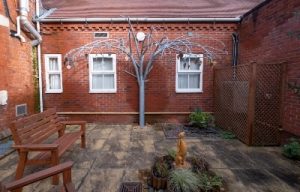 People can choose a gold or silver leaf for a contribution of £5 per month for a minimum period of 12 months or a minimum one-off contribution of £60 for each leaf.
After the 12-month period, people can choose to either take the leaf home or renew their subscription.
The money raised helps the hospice to provide care and support to people with life-limiting conditions, their families as well as bereaved adults and children living in north east Worcestershire.
It costs £1.75million to run Primrose annually with the hospice having to raise £1.5million of this total through trusts and grants, legacies and fundraising.
Anyone wishing to purchase a leaf or find out more information about the Memory Tree should visit https://primrosehospice.org/support-us/fundraising/memory-tree/.
Alternatively, call 01527 871051 or email info@primrosehospice.org.