Remember your loved one this Christmas
Our Lights of Love Appeal is a fantastic way for us to come together as a community at Christmas to remember our loved ones and reflect together.
Take part in our appeal and join us in dedicating a light to remember your loved ones past and present and treasure a special moment this Christmas.
Dedicate your light
Make your dedication online and add it to our online dedication page, along with a chosen photo, message or memory. You can also share your dedication with your loved ones online using this link, https://primrose.light-up-a-life.org/
All dedications received by the Monday 15th November will be included in the printed 2021 Book of Remembrance. All names will be displayed around our Christmas Trees situated at ASDA Bromsgrove, the Kingfisher Shopping Centre and will also be available to view in our Books of Memory at each service.
(Please note there will be a second cut off date of Monday 13th December, allowing us to add any additional dedications by Friday 17th December)
Lights of Love Services
We are delighted to welcome the return of our Lights of Love services, please join as at any of the following:
St John the Baptist Church, Bromsgrove – Sunday 21st November at 6.00p.m.
Beacon Church Centre, Rubery – Sunday 28th November at 4.00p.m.
St Stephens Church, Redditch – Sunday 5th December at 3.00p.m.
For those of you who are unable to attend, we will be releasing details of our Virtual Service shortly.
Paul's Story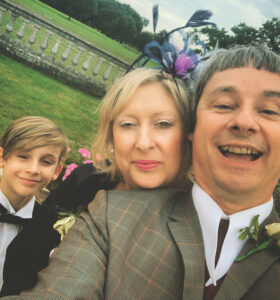 "This will be our first Christmas without Michelle, my beloved wife, best friend and mom to our 11 year old son, Curtis.
Mel was diagnosed with cancer in 2017, despite this her determination and positivity shone through. She lived with this for four years before dying on 14th January 2021, surrounded by her closest family members.
We knew that last Christmas would be our final one together as a family, Mel made sure that all the presents were bought by the end of November. We always admired her organisation, and we still miss it to this day.
Despite Mel's illness, we kept our family traditions alive as much as possible. Although we weren't able to dance together as a family when the clock struck midnight, we still woke Mel up to ensure she was with Curtis and I to see in the New Year.
We remember Mel every single day and always ask "what would Mommy do?" when we need advice. We know she is still here with us, and Curtis sends hugs and kisses every night to his mom. She will always be with us, we have so many good memories. We will always love her.
We're supporting Lights of Love this year as Mel would have wanted to help other people recognise the services that hospices provide and how they can help others.

If you have any questions about the Lights of Love appeal or your dedication, please contact our fundraising team on 01527 889 796 or events@primrosehospice.org
Sponsored by: