Often people will visit us in what might be the hardest time in their life, so the support our team provides is vital and can help to guide them to deal with difficult situations or decisions.
Today we would like to share with you the story of how our team helped patient Steve to take "Three steps over the threshold"  and receive expert care from our Day Hospice team before he sadly died.
Meet Steve and Michelle. Steve was diagnosed with a brain tumour in 2020; they left hospital and life felt overwhelming. They had some physical support from carers but had no idea how to move forward with their lives.
Shortly after they had a phone call from one of the palliative nurses, our lovely Clinical Nurse Specialist, Mel who invited them to Primrose Hospice to see how we could help. Since then our teams at Primrose Hospice supported Steve and his family through clinical support, counselling, group support and financial advice.
Here is Steve and Michelle's story told in their own words.
Steve: "Getting out is my goal and coming to Primrose I've found this little motto. Three steps over the threshold and we're out.
Coming to Primrose Hospice has given me confidence to leave the house because the support has been absolutely fantastic. Right from the front door you are welcomed in by the friendly faces of the volunteers, and you feel so supported by the professional nursing staff. 
Before you've even sat down you've probably got a cup of tea in your hand and feel totally at home. I was worried it might have been a bit pushy, but it's not like that at all. I feel really safe and that's the main thing. 
The idea that all I have to do is get over that threshold and the rest takes care of itself, it's changed the way I look at everything!"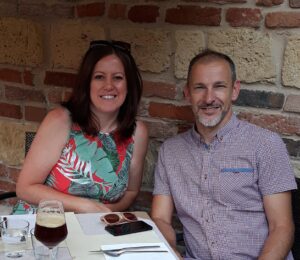 Michelle: "The thought of palliative care scared us. Although we have known Steve's diagnosis all along, the thought of coming to a hospice really scared us. We were frightened about what we would see here, what would happen. The decision to come to that first session was a big one, but we have never looked back."
Steve: "While there have been some hard times, we've had some great laughs. During one session, I was taking a relaxing shower in the hospice's easy access rain showers, with the help of Mel. Suddenly it went from warm to freezing cold – I nearly shot through the ceiling! She'd accidentally got the wrong temperature – and luckily neither of us have been able to stop laughing about it since.
The Nurses at Primrose Hospice have helped us both to understand what might happen in the future. That was such a difficult conversation, but I am glad they were there to have it with us. We know we can get full support here.
It's not just about the hospice but it's the experience the hospice has given me. If you take those three initial steps you almost think you can do anything!"