A RUGBY fan and hospice patient who was having difficulty attending matches was given the VIP treatment thanks to Primrose and Worcester Warriors.
Neil Leddington, from Bromsgrove, has been a Warriors fan and season ticket holder for over a decade.
He and wife Val were even married at the Warriors ground Sixways in 2012 and had former Warriors lock Craig Gillies attend as a special guest.
However, during a recent clinical appointment at Primrose Hospice, Neil explained he was unable to attend matches because of the cold weather.
Worcester Warriors
Knowing how important these matches are to Neil, his clinical lead spoke to Primrose Hospice's chief operating officer Angelique Dalton who managed to organise a box at the stadium for Neil and his friends and family.
Neil said: "It was absolutely brilliant. After talking to Dr Douglas about it, within ten days it was all organised.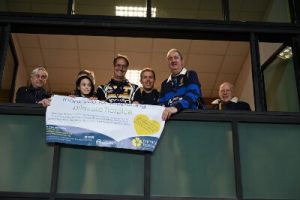 "We had a fantastic time."
Neil, his wife Val as well as family and friends, watched on as Warriors were beaten by Northampton Saints 10-16 on Friday, March 6.
A brilliant time
Despite the result, Val said the couple enjoyed the evening and thanked both Primrose and Worcester Warriors.
"We had a tremendous time. It was brilliant to be able to watch a game in the warmth."
Angelique Dalton, COO at Primrose, explained that the Bromsgrove-based hospice liked to go the extra mile for its patients.
"As soon as we learned that rugby was a big part of Neil and Val's lives but sadly he had been missing matches we knew we had to act.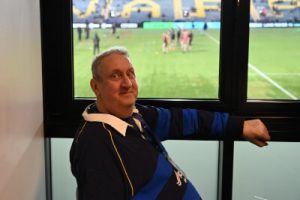 "Warriors were incredibly accommodating and we would like to say a big thank you to them.
"At Primrose, we not only take care of our patients' medical needs but also offer services which can take care of their emotional and practical needs.
"We will always try our best to help those people who use our hospice to continue to do the things they love with the people they love."
Warriors Managing Director Peter Kelly said: "As a Season Ticket Holder Neil is a valued supporter and we were saddened to learn that he struggles to attend matches in cold weather because of his condition."
"When we were approached about the possibility of hosting Neil we were only too happy to be able to help him and Primrose Hospice.
"We are pleased to learn that Neil enjoyed his visit to Sixways and delighted that we were able to work closely with Primrose Hospice to make the day a success."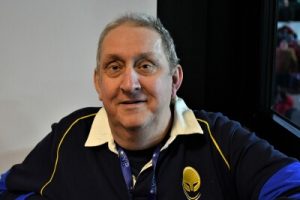 Primrose
Last year, Primrose Hospice cared for over 1,000 people living in north east Worcestershire including people with life-limiting conditions and their families.
All services are free of charge, however, it costs £1.75million annually to keep the hospice running with £1.5 million of this total having to be raised by Primrose.