Primrose Hospice & Family Support Centre focus on helping our patients not only to manage their illness and symptoms but also achieve their goals. We recently took some of our Day Hospice patients for a sunny day trip to visit Weston Super Mare beach.
The day was filled with laughs, ice cream and not forgetting fish and chips!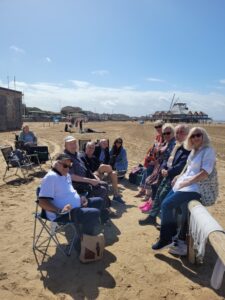 Dawn White, Head of Clinical Services at Primrose Hospice said: "It was amazing to have the opportunity to be able to take some of our patients on a special day out where they were able to enjoy quality time with friends they have made at the hospice in a different environment.
Keith one of patients said he enjoyed the company the most. This was lovely to hear as we pride ourselves on providing a safe space for people living with life-limiting illnesses to form friendships with new people that may be in a similar situation as themselves. We wouldn't be able to take patients out on days out like this without the generous support of our local community, so thank you."
Primrose Hospice & Family Support centre are here for you and your family, find out more about how they can support you here: https://primrosehospice.org/