PRIMROSE Hospice's charity shops have all reopened and are looking forward to welcoming back customers.
Staff and volunteers at the shops were busy putting in safety measures to keep themselves and shoppers safe ahead of them reopening.
Donations can only be accepted at the Headless Cross shop on Thursdays from 9.30am until the storage area is full.
Donations can be made of either bagged clothing or boxed bric-a-brac. See more information on our shops and donation process here.
Headless Cross reopening
Primrose Hospice had to temporarily close its shops in the wake of the coronavirus pandemic.
Its Headless Cross branch was the first Primrose Hospice shop to reopen.
Staff welcomed back shoppers on Saturday (July 4) with a busy day of trading.
It followed a donation evening on Friday which saw generous shoppers fill the storage section with good quality clothing and bric-a-brac.
Now all the shops have opened their doors once again.
To keep everyone safe, there is a one way system around the shop as well as hand sanitiser at the door.
We are limiting the number of people in the shop at one time and ask that those who are able to, to wear a mask.
There is also a screen up at the till counter and we would remind customers who are showing signs of coronavirus to please self isolate and not enter our shops.
Thank you
A big thank you to everyone who has so far supported Primrose Hospice by dropping off donations or shopping at our charity shop branches.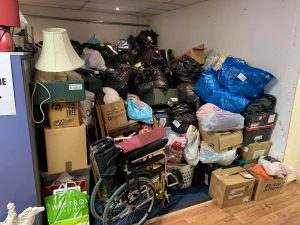 Our staff and volunteers have been blown away by the response and are so happy to be able to welcome you all back.
We will update our social media pages when we have news on when our shops will be accepting donations once again.