As part of International Women's Day (8th March) we want to introduce you to Kim, one of the many wonderful women we support here at Primrose Hospice.
Kim has been supported by Primrose Hospice since 2019. She initially came to Primrose when she was diagnosed with cancer for the second time to find out information about financial and therapy support, but has gone onto become a regular friendly face at our GALS Group.
GALS Group is a monthly wellbeing social group that supports women over 18 living with a life-limiting illness. This could be palliative heart failure, a lung condition, cancer, a neurological condition and more.
They meet at Primrose Hospice to get involved with crafts, activities, learn new skills and socialise in a safe space with others that may be in a similar situation to themselves.
Kim said: "Everybody at Primrose treats you as a person, not an illness or a sick person. You can just be yourself have a giggle, be stupid. There's nobody having an opinion on you or what you're doing. 
When you're told it's a hospice, you automatically think there's going to be lots of sick people, you're going to see people at end of life and it's going to be very clinical. But it's completely the opposite. There are some poorly people here, but you wouldn't know that they're poorly. Because once you're here it uplifts you.
Make the call, just ring the hospice and ask if you can speak to somebody, take that plunge and do it. Because I'm glad I did. It was the best thing I ever did."
Listen to Kim talking about Primrose Hospice here: https://youtu.be/sDluhWsAl7o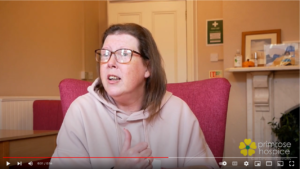 In 2020/21, hospices supported an estimated 300,000 people in the UK, including people at the end of life, families, carers and bereaved relatives.* Every hospice is unique and provides care and support tailored around their patients' and families' needs. Primrose Hospice is no different which is why we run our specific wellbeing groups to support our community's needs.
Could we support you or your loved ones?
Learn more about our wellbeing support and other services here:
https://primrosehospice.org/care-and-support/wellbeing/
* https://www.nuffieldtrust.org.uk/files/2022-05/hospice-services-web-1-.pdf
Photos: www.juliekingphotography.co.uk