Here at Primrose Hospice & Family Support Centre we're proud and very grateful to the 400 volunteers who help us all year round. We simply wouldn't be able to deliver our services without their support.
This Volunteers Week we would like to take the opportunity to say thank you to each and every volunteer who gives up their own time. Whether you volunteer every week or occasionally at one of our fundraising events we appreciate every minute people give.
We'd love to introduce you to some of our volunteers, read their stories and find out more about volunteering with Primrose Hospice:
Harrison, Lucy and Michael: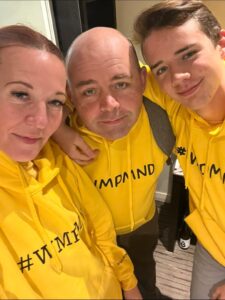 This fantastic family of volunteers and fundraisers have been supporting Primrose for many years. From running marathons, mammoth cycle rides and giving up weekends volunteering in our Bromsgrove Shop we are so grateful to all their support.
Harrison has been volunteering in our Bromsgrove Charity Shop every Saturday for around a year. He was inspired by his Mum and Dad's fundraising and wanted to give something back to his community.
We asked Harrison about his volunteering: "A lot of people think volunteering is going to take up a lot of your time, but it doesn't have to take up all your time. I usually do 1-4 on a Saturday and it's really enjoyable to be there, you get to speak to lots of different people. You aren't just standing there behind the till, I help label the clothes, I help Louise put the stock out and anything else they need. Volunteering for Primrose is a good thing to do as it doesn't feel like a task."
Lucy – Mum and runner in her spare time was inspired to support Primrose after her good friend Sharon Johnson's husband Chris was diagnosed with Motor Neurone Disease in 2018. Our family support team have been supporting Sharon and her family.
We asked Lucy about her fundraising: "Every time someone sponsors, £1, £10, £20, it genuinely makes a difference. There's four of us doing the London Marathon this year in our group, it's three of the girls first London Marathon. We all did the Liverpool Rock n Roll half marathon together in 2021. Running in our Primrose running vests, knowing why we are doing it is worth it."
Lucy and Sharon's team have already raised thousands of pounds for Primrose and aren't stopping there! If you would like to support them you can do here.
Michael – Dad and cyclist in his spare time has been cycling as a hobby and decided a couple of years ago that he wanted to take on the iconic John O'Groats to Lands' End challenge. After hearing about Lucy's fundraising and knowing what his friends Sharon and Chris were going through he very kindly decided to fundraise for Primrose.
We asked Michael about his fundraising: "A lot of the time I ride past Primrose on my bike and I like knowing where my money is going, I wanted to raise money for a local charity. Because we know Sharon and Chris really well, I've worked with both of them, it hits home what they are going through, it's my way of feeling I'm contributing to what is an awful situation for them but we're trying to do something positive out of it. My cycling fundraiser is going to be a huge personal challenge for me, but no matter how hard a challenge is or how hard you feel towards the end of it, it's nothing compared to what the people who are accessing Primrose support are going through."
If you would like to support Michael with his fundraising efforts you can do here. 
Next we would like to introduce you to Bernadette Bates who volunteers with our Family Support Team.
Bernadette initially started volunteering at Primrose Hospice around 30 years ago volunteering with relaxation, meditation, and creative art groups. She was then expecting a baby and stepped away from volunteering for a while, however around six years ago she came to one of our annual Summer Fayre as at the time we were supporting one of Bernadette's friends. She chatted to some staff and has since been back volunteering with our Family Support Team since!
She now leads our River Group which is a Bereavement Group that runs for six weeks for adults of any age who are bereaved. The group focuses on relaxation, breathing techniques, and encouraging people to be creative in different ways.
We asked Bernadette about her volunteering:
"I like being able to be useful and use the skills I've got, which also involves meeting lots of new people. You feel good because you know what you've given has helped those people that day. Primrose is a place that helps a huge number of people and their families, so to be part of that feels good because when you are a volunteer you are part of the team.
Volunteering is great because many people may have finished work for whatever reason, but they've still got lots to offer. I've known people who've come to the River group who've told me they've just started volunteering for Primrose and I can see it's given them a new lease of life because they are back in the work environment again, and their self-esteem gets a boost."
Bernadette also sings with our Primrose Choir which has been performing for over 20 years, raising over £200,000 for Primrose Hospice. The Choir are always looking for new members, if you would like to find out more visit our website  or call Anita on 07737317493.
Lastly we would like to introduce you to Vicky who volunteers as a Reiki therapist as part of our Complementary Therapy team.
Vicky initially started volunteering with us after training as a Reiki therapist after her sister was having treatment for Bowel Cancer.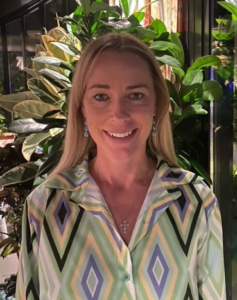 Vicky had been receiving Reiki for anxiety and had found it really helpful.
We asked Vicky about her volunteering: "As you know I haven't been a volunteer with Primrose for very long but so far have thoroughly enjoyed my experience at Primrose Hospice. Everybody I have met have all been so welcoming and helpful. I was a little nervous to begin with especially after treating my first clients who are carers and people who are bereaved but once I saw how relaxed they were after the session and their feedback was positive my nerves soon passed. I just felt happy that I had helped them for that short while of their day whilst going through incredibly difficult times.
I feel that If I can make any positive difference to them by means of helping them relax, re-balance and take time for themselves to switch off for a while then I would like to continue to volunteer for many years to come."
Did you know volunteering could benefit your health?
We know staying healthy and active can be a challenge, it might be a surprise for you to know that volunteering could help you lead a healthier and potentially longer life!
Volunteering can:
• Increase your physical activity
• Improve your mental health and reduce stress
• Give you the opportunity to meet new friends
• Make you feel valued and part of a team
• Give you quality time away from work or a busy lifestyle
• Allow you to gain confidence and self-esteem.
Is 2022 your year to give something back?
We have a huge variety of volunteering roles that you can get involved with. Whether it's gardening, counselling, or fundraising, there really is something for everyone!
Roles we have available:
– Volunteer counsellors
– Volunteer complementary therapists
– Shop and/or eBay volunteers – we are particularly looking for volunteers to join our new Kingfisher shop.
– Volunteering at events – things like marshalling and manning registration desks.
If you would like to know more about volunteering please visit our website or contact Jo Wright our Volunteer's Manager – 01527 871051 jo.wright4@nhs.net
Thank you to all our volunteers who freely give hours of their time each year to support Primrose Hospice & Family Support Centre.