This December Primrose Hospice have got the perfect way to kick off your festive activities. Our signature Santa Fun Run is back once again on Sunday 4th December at Arrow Valley Country Park in Redditch.
Run, jog or walk off those early Christmas treats with the 5K course and don't forget about the 1K kids race!
Why not set yourself a challenge and use Primrose's Santa Fun Run as an opportunity to get fit, just like Jo did in 2021. Jo Painter decided she wanted to get fit in 2021 and joined a fantastic fitness group in Redditch. The group take part in the Santa Fun Run every year and she said "I'll take part – but I can't run!"
After gearing herself up with her trainers and Santa suit, the bell went and something in her said "I'm going to run!" With the support of her group she ran the whole course despite never having ran 5K before!
Jo said: "The more I did, the more I wanted to run and the more I was inspired to carry on. With the atmosphere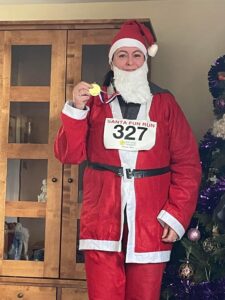 and my teammates encouragement I ran the whole thing! Everything is achievable – I have rheumatoid arthritis and there are times when I struggle to walk from room to room so running 5k is quite amazing really. It's incredible what you can do when you've got the right people around you and the right support."
Join Jo and hundreds of others for Primrose Hospice's Santa Fun Run 2022 by signing up here: https://primrosehospice.org/events/santa-fun-run/
or Contact our fundraising team to sign up!
T: 01527 889796
E: events@primrosehospice.org