MIDLANDS football fans who work at Mondelez will be putting rivalries aside for charities including Primrose Hospice.
Aston Villa supporter Michael Huggins and Birmingham City fan Steve Davies will take on the challenge to cycle to every Premier League football ground along with the support from West Bromwich Albion supporter Sophia Hussain, who is the Team Director.
As well as Primrose Hospice, the team are also fundraising for Acorns Children's Hospice, Sandwell Advocacy and Cerebral Palsy Midlands.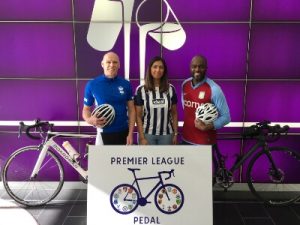 They begin their challenge o from Bournemouth FC and will finish at Newcastle FC  covering a distance of 800 miles.
The team are trying to reach as many people as possible so they are asking for a £4 donation from each person (£1 for each charity) but larger donations are most welcome.
If you donate please leave the name of the team you support so they can see which team has the most generous supporters.
Donation
You can donate via this link: https://uk.virginmoneygiving.com/Premierleaguepedal or by typing in "Cycle 2 Every Premier League Football Ground" in the search option on Virgin Money Giving.
You can follow their progress on Twitter: @michaelah1874.
The event has been postponed until September or October however the team will continue accepting sponsorship for the pedal.
The route