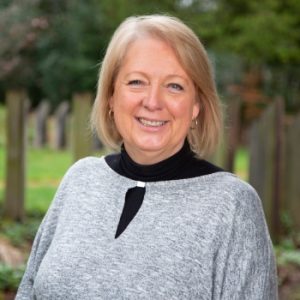 Heather Coughlin – Head of Family Support Services
I have been working at Primrose Hospice & Family Support Centre for over 15 years. I was employed to establish a Family Support Service.
This is now established and includes a Children's service both offering pre and post bereavement support to patients and families. I am a qualified Social Worker and also qualified to supervise Social Work Students on placement.
I have worked in Family Support and Palliative Care for my whole career, commencing in 1980 when I worked for Tower Hamlets in Residential Social Work and Child Protection. On moving to the Midlands, in 1984, I worked for Barnardo's and Worcester County Council managing Child Protection and Family Support Services prior to moving to Primrose Hospice in 2008.
I love working at Primrose Hospice as everything about our service delivery is informed by service user need. We have evaluated and developed our service to include one to one and groupwork and because of this we are able to make a real difference to people's lives at one of the most challenging times they will have.
Hospice care should be seen as a necessity, just as antenatal care is, however this is not the case. Primrose Hospice takes on this responsibility for Redditch and Bromsgrove residents and in return the people of Redditch and Bromsgrove see Primrose Hospice as a real necessary addition to their community.