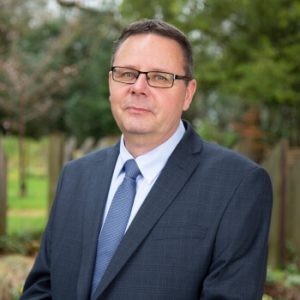 David Burrell – Chief Executive Officer
I'm privileged to be the Chief Executive Officer for this amazing charity.
Overall responsibility for the organisation rests with me and I'm very well supported by Senior Leadership and Senior Manager Teams. I report directly to our Board of Trustees to ensure we act legally and morally and that the organisation thrives.
Before coming to Primrose Hospice, I had a long career in the NHS, initially as a clinician. I trained as a Healthcare Scientist working predominantly in Nuclear Medicine. I worked directly with patients for over 20 years.  A large part of my subsequent career has been as a NHS Director and Chief Operating Officer and I'm proud to say I've managed every clinical specialty at some time during my career.  I've enjoyed working with some fantastic healthcare professionals and really pleased that I still have a network of colleagues that are still mutually supportive.
There is always something happening and always plans to improve for the future.  It makes me very proud.
It's such a special place! Doing great work and making a huge difference to individuals and families at some of the most challenging times in their lives. Some Hospices in England have closed during the last 4 years due to financial difficulties and it's clear that there is no alternative to "great hospice care" for those communities now.  A really sad loss for those areas. Primrose is a hugely precious charity, we should all cherish it!