"There were times in the last nine months, when it's been pretty hectic and pretty tough for all of us, but Primrose doesn't dwell on the sadness it offers a way to a better future." – David Kershaw.
Did you know by the age of 16, around 1 in 20 young people will have experienced the death of one or both of their parents*?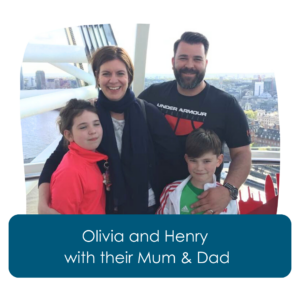 This Children's Grief Awareness Week we are introducing you to The Kershaw Family, David, Hannah, Olivia, Henry & Sophie who would like to share their story to help others experiencing bereavement. Primrose Hospice and Family Support Centre has played a crucial part in their life for the past 6 years after Olivia and Henry's parents, Becky and Stephen sadly died.
Below you can read or watch David Kershaw's words:
The family started receiving support after Olivia & Henry's Mum, Becky was diagnosed with Bowel Cancer in 2017. Our team provided support through counselling, group work and family sessions. Sadly, 5 years later, Stephen, Becky's husband and Dad to Olivia, Henry & Sophie, died, unexpectedly of a heart attack.
"Our lives changed forever the day Stephen died and if it hadn't been for Primrose Hospice, I don't know how we would have coped." Hannah Kershaw, David's wife.
The whole family have received tailored support, at their own pace delivered by our incredible counsellors and team. They have met other children in similar circumstances and taken part in activities designed to help them remember their parents. David and Hannah Kershaw, the children's Uncle and Aunty have also received support, helping them to cope with their own grief, while raising two grieving children.
"It's a little bit like a safety blanket, you know week to week you're alright, because somebody's going say, you're still here and you still doing okay. There were times in the last nine months, when it's been pretty hectic and pretty tough for all of us individually. But by coming to Primrose I've seen it as a little bit of a pressure release valve. We were all thrown together. Uncle and fiancé, now wife, their Aunty thrown together in a in a family crisis as it were, we've managed to stabilise that between us. I think we've made it made it work and that's got us to where we are today. But only because there's been that pressure release valve from Primrose that's there to make sure that we're not doing the wrong thing.
Primrose Hospice is really special and it's not like, every town has the same thing. So I would say it's something well worth celebrating, but also looking after. What I would say is that, first of all, I hope it doesn't happen to anybody else, because it's a pretty tough place to be. But I think you have to embrace the help that's around, I think that's really important. There is a massive recognition of the work that you do and an ongoing respect for Primrose. Every time we think about supporting a charity, we will always think of Primrose and I think that will persist for a very, very long time.
When I think about Becky or Stephen they are sad memories, but I think Primrose isn't about that, it doesn't dwell on the sadness it offers away to a better future." – David Kershaw
In the UK 127 children are bereaved of a parent every single day*. At Primrose Hospice & Family Support Centre we work closely with local and national organisations to support grieving children and families. But we can only continue to do that with your help.
This Children's Grief Awareness Week we are asking you to consider donating to Primrose Hospice, so that we can help more people like The Kershaw Family. A £15 donation could help pay for a child to access one session with our Young Person's team. Helping them cope with a bereavement and providing them with coping mechanisms to prevent them from feeling isolated and alone.
One of the ways you can support us this year is by dedicating a light in memory to your loved ones through our Lights of Love appeal here.
Thank you to The Kershaw Family who have fundraised for Primrose Hospice and allowed us to share their story. We provide care and support to 1,400 people every year in North East Worcestershire. This simply wouldn't be possible without our 'Primrose People' – people like The Kershaw Family. Find out more about how we support children and families here.
You can meet more of our 'Primrose People' by visiting this page.
Our team have been working with the children and young people we support to contribute to The Childhood Bereavement Network's sharing shapes project as part of Children's Grief Awareness week. Some of the beautiful mosaic (below) was created by children at Primrose Hospice & Family Support Centre, highlighting the importance of working through grief.
Data by the Independent UK Commission on Bereavement demonstrates this type of support can make a difference huge difference to children struggling with grief.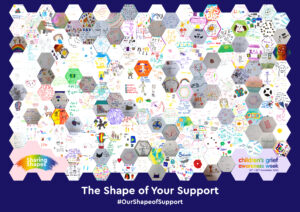 #CGAW23 #primrosepeople
*https://childhoodbereavementnetwork.org.uk/about-1/what-we-do/research-evidence/key-statistics