DETERMINED Slimming World members handed over a mountain of their unwanted Christmas goodies to Primrose Hospice.
Fifteen bags and a box crammed full of chocolates, sweets and biscuits were given to the hospice in St Godwalds Road by members of Slimming World groups in Bromsgrove.
Around 800 members donated the treats which will now be used as prizes to fundraise for the hospice as well as given out to patients in the day hospice.
Gaynor Hale, who runs the group which meets at Bromsgrove Rugby Club, said: "We try to support the Primrose Hospice with our fundraising as much as we can as it is a charity very close to our hearts.
"Our members are always really very supportive and we have now made our 'syn bin' an annual event to help the hospice with their fundraising."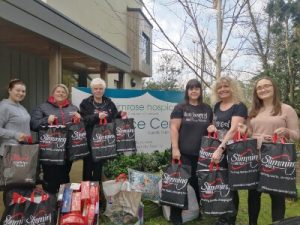 Support
The treats were donated by members who attend the Slimming World groups held at New Road Baptist Church, Lickey End Social Club Thursday group, Bromsgrove Sporting Football Club, St Andrews Church Hall, Catshill Village Hall Wednesday group, Bromsgrove Rugby Club and The Sacred Heart Parish Hall group in Droitwich.
Primrose Hospice offers free care and support to people with life-limiting conditions, their families as well as bereaved adults and children in north east Worcestershire.
It costs approximately £1.75million to run Primrose Hospice annually with just under £1.5million having to be fundraised by the hospice through events, the community as well as trusts and grants.
Thank you
Sarah Harris, community fundraiser for Primrose Hospice, said: "We are incredibly grateful to the Slimming World members in Bromsgrove who generously handed over their Christmas goodies.
"We were amazed to see so many bags filled with all kinds of treats.
"The Slimming World members' generosity means we will be able to easily find prizes for our fundraising raffles and tombola or for our Summer Fete.
"The money raised will help us to continue to be able to offer people in our community free care and support when they need it most.
"We will also be sharing the goodies with the patients in our Day Hospice who will no doubt be very grateful."
Tickets are still available to Primrose Hospice's Business Breakfast at Chateau Impney on Thursday, February 13 from 9am.
To book your place on the networking event, visit https://primrosehospice.org/events/business-breakfast.