Paralysed campaigner and fundraiser Claire Lomas MBE has been announced as the guest speaker for Primrose Hospice's Business Breakfast.
The 39-year-old will be star guest at the fundraising breakfast which takes place at Chateau Impney in Droitwich on Thursday, February 13.
The annual event is a fantastic way for any business to kick start the new year by networking and enjoying a talk from a fantastic special guest speaker.
Claire will share her story of how her life was turned upside down on May 6, 2007 when she became paralysed from the chest down in a horse-riding accident.
Inspiring
She discharged herself from hospital after only eight weeks, did a lot of rehab and over time she found strength and courage to rebuild her life by finding new interests and work.
She has also raised hundreds of thousands of pounds for research.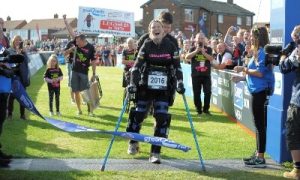 Amy Flemming, corporate fundraiser at Primrose Hospice, said: "I've heard Claire speak before at a conference and it was a really inspirational and motivational talk.
"We knew she would be perfect for the Business Breakfast so were delighted when she agreed to appear.
Networking
"Primrose's Business Breakfast is also a fantastic opportunity for local businesses to network together and make new contacts as well as raise money for the hospice."
Money raised from the event will be donated to Primrose Hospice who support patients and families living with a life-limiting illness as well as bereaved adults and children.
All its services are free of charge to those who need it in north east Worcestershire.
Support
Annually, it costs £1.75million to run Primrose Hospice with just under £1.5million having to be fundraised by the hospice itself.
Arrival and networking begins at 9am. Tickets are £30 per person and guests will also receive a delicious buffet breakfast and refreshments.
Anyone interested in attending the Business Breakfast should contact the fundraising team on 01527 889796 or email info@primrosehospice.org.