"We make a living by what we get; we make a life by what we give."
At the end of Trustee week, we wanted to publicly recognise and thank our longest serving Trustee, Mark Leech. Mark died suddenly and unexpectedly on 12th October 2023 and everyone at Primrose Hospice and Family Support Centre is deeply saddened.
Mark Leech was an incredible, selfless person who gave his time for others in his community. His generous support for Primrose Hospice, other local causes and charities can only be described as exemplary.
Mark began supporting Primrose Hospice when he had a business in Bromsgrove and became a Trustee in 2012. He was our longest serving Trustee and gave his time, expertise, passion and determination for the benefit of the charity and his community for over 10 years. He had immense knowledge and expertise in finance and business, combined with local knowledge and a well-established network of contacts which he utilised for the benefit of the Hospice and community.  He would be tireless in his pursuit to contribute as much as possible to the Hospice.
Mark was chair of the Finance Committee and a passionate member of the Ball committee, always championing a bigger and better ball, building on the previous year and being more ambitious. This was mostly due to his desire to help the Hospice raise funds but also because Mark loved a party. He was always first on the dance floor, first to start an impromptu Karaoke and would always bid courageously on the auction items and then often donate them back to the Hospice!
Mark was also a Trustee of the Worcestershire Joint Hospices Lottery, and he was the inspiration behind merging lotteries for the benefit of several local Hospices.  Every year the lottery that he helped establish raises over £100,000 to support Primrose Hospice and our community.
Mark was a great character and was determined for things to be "bigger" or "delivered faster" or "to do better".  This was an endearing quality, borne from his resolve to make everything better, a quality that kept everyone focussed and moving forward.
Mark's contribution to Primrose Hospice will benefit this community for many more years to come. His generosity and compassion towards others are an example for us all. We should all aspire to be like Mark.
Our thoughts are with all of Mark's family and everyone who knew him.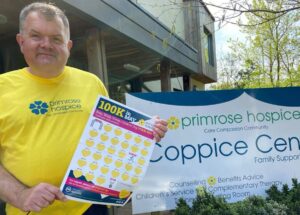 Published 09.11.23