Make a difference in your workplace, make a difference in your local community
Our mission is simple. We believe in hospice care for everyone… but we need your help to achieve this.
There are lots of ways your business can support us whether that's organising an event, choosing us as your charity of the year or getting involved with volunteering.
We make a great charity partner because you will have:
Great volunteering experiences both at the Primrose or out in the local community designed for team building.
Our dedicated team to help and inspire you.
The opportunity to see the difference you make by visiting the Hospice and seeing first-hand how your support really makes a difference.
Raise your profile in the local community and build on your CSR strategy.
Supporting the Primrose allows you to feel connected with the local community. Knowing that you are helping us to be there for our patients with a life-limiting illness and there to support their loved ones.
As a business there are lots of ways you can help Primrose.
Choose Primrose as your Charity of the Year
By supporting Primrose throughout the year, you will be making a difference to over 1,000 people in your local community. The brand exposure and positive publicity of working alongside a local charity can be huge for your business, and we are there every step of the way to ensure your contribution to Primrose is shared far and wide.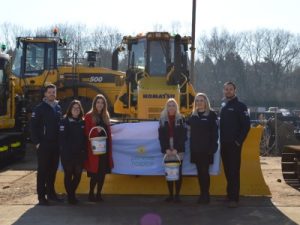 Marubeni-Komatsu are supporting Primrose Hospice throughout 2019 as part of a charity of the year partnership.
Take on a Challenge
Why not challenge your employees to go the extra mile for Primrose by taking on an exciting event. There are lots to choose from including:
Velo Birmingham
Great Birmingham Half Marathon
Your employees could raise sponsorship all towards your company's overall total fundraising. If match giving is something available at your company, you could double your fundraising income at no extra expense to you!
It's great exposure for your brand and an opportunity to support your staff in getting active and adventurous!
Gift in Kind
Primrose Hospice relies on the community to cover the costs of the services we offer and everything that includes. If you think you could help relieve our costs through gift in kind or pro bono support, we would love to hear from you.
Events and Sponsorship
Check out our events page to see what fantastic events you could attend. Bring your clients along to our Primrose Ball to give them a night to remember and show them how you support your local community. The Summer Fete is a brilliant opportunity for staff to spend a day with their families.
Many of our events also come with sponsorship opportunities at varying levels. Get in touch today if you want to find out how to get your company name in front of hundreds of Primrose Hospice supporters.
Volunteering Opportunities
We are always on the look out for volunteering support for the hospice. Whether you want to get your hands dirty looking after our gardens, roll up your sleeves and paint the hospice, or volunteer at one of our events, we would love to hear from you.
To find out more about how you can help make a difference in your local community get in-touch with Amy Flemming on 01527 889796 or e-mail: Amy