SANTAS, elves and even a cooked turkey helped raise over £7,000 so far for Primrose Hospice this weekend.
Over 100 people took to the streets of north east Worcestershire in festive costumes as part of the hospice's virtual Santa Fun Run.
In previous years, the charity held its event in Arrow Valley Park in Redditch but was unable to this year because of Covid restrictions.
Extended registration
However, the option to run or walk a 5k or 10k route in your own area has proved so popular that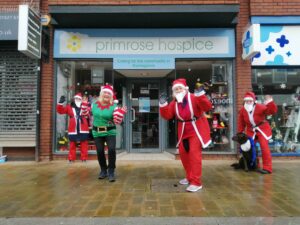 the hospice has decided to extend registration until Friday, December 18.
Lucy Perkins, Chief Elf and fundraiser, said: "It has been an incredible weekend and I have enjoyed spotting all the Santas running around Bromsgrove and Redditch for Primrose.
"I would like to say a big thank you to everyone who put on a Santa suit and took part.
"The reaction from the community was wonderful – there were cheers from passers-by, car horns honking and people shouting encouraging words.
"It has been a difficult year for us all and this definitely raised a smile and some much needed funds for hospice care in our area.
"I've spoken to Santa and everyone who took part is on the good list because they've ensured people can access our care and support for free when they most need it.
"We are still calling on the local community to take part, please visit the website to register your place and pound the pavements for Primrose!"
Super Six
The Super Six, members of the hospice Care team, took part in the Santa Fun Run on Saturday.
Karen Dodson, physiotherapist, said : "We work together as a team and it was only right we ran together as a team to raise money for the hospice (and have some fun!).
"My job often involves giving advice on exercise and activity, so Saturday gave me an opportunity to put some theory in to practice!"
Hospice continues to help
The hospice has continued to work throughout the pandemic with its Care team providing care at home, over the phone or via video calls.
Family Support staff have been working directly with families bereaved as a result of Covid-19 or who have added trauma caused by restrictions on funerals and seeing loved ones.
To sign up for the Santa Fun Run, click here.