Coronavirus: Primrose Hospice's latest statement
Click here
My Prudential RideLondon – Virtual!
15 August 2020 - 16 August 2020
Get on your *bike and join in My Prudential RideLondon for Primrose Hospice.
*or scooter, skateboard, trike, tandem, penny farthing, roller skates, unicycle
The eighth edition of Prudential RideLondon was due to take place on 15 and 16 August 2020, but has had to be cancelled.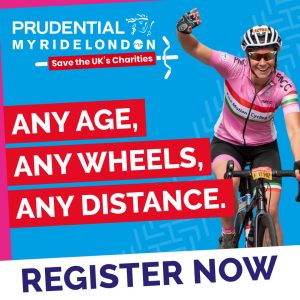 However, while the festival can't go ahead as planned, the event organisers want to celebrate the event weekend by encouraging people to get on their bikes and support charities.
My Prudential RideLondon is your chance to take part in the world's greatest free festival of cycling.
Whatever your age or ability, you can join in – wherever you live in the UK and with whoever you like – family, friends or by yourself.
It's your ride, your way, to support the work done by Primrose Hospice.
The money you raise helps provide care and support to people with life-limiting conditions and their families, as well as bereaved adults and children.
Primrose Hospice has been working throughout the pandemic to make sure it continues to provide care to its patients and service users as well as cope with a ride in demand for its services.
To sign up either visit the official website or email info@primrosehospice.org for more information.